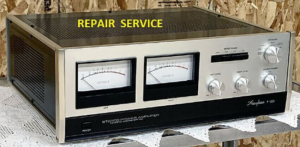 We do repair and service for vintage HI-FI audio equipment . Age frame – 1939-1990 . Vacuum tube or solid state design. All brands. We charge project price . Time frame for repair project   7 – 30 days depends on repair level, parts availability and amount of units we have in process.
Project price include – labor, parts, tax , automatic critical components testing and failed illumination replacement. After repair is done, we will ship your unit back to you. In case we can,t fix your unit – full refund .  There are some cases  we can,t solve the problem  – after severe mechanical damage, after flooding, oxidation  or corrosion of components inside , major fire and burning inside, missing components  and major redesign of major components , after lightning strike . All your notes on paper about existing problems  for your unit extremely important for us .It helps in troubleshooting  process and time management. 
Important note about packing and  shipping  –   please protect unit corners  and front face  when you pack your item for shipping.  Double box and corners protection – is the best way to ship vintage electronics. 
For local customers – estimate and diagnostic is free. For some unique repair projects and questions you can contact us by email [email protected].